Melinda West: Monster Gunslinger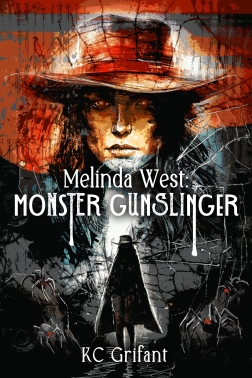 By KC Grifant
Published by Brigids Gate Press
KC Grifant comes out guns blazing with Melinda West: Monster Gunslinger—a devious action-packed adventure set in a very weird version of the Old West. Fast, furious, and a hell of a lot of fun!"
—Jonathan Maberry, NY Times bestselling author of Son of the Poison Rose and Relentless

In an Old West overrun by monsters, a stoic gunslinger must embark on a dangerous quest to save her friends and stop a supernatural war.

Sharpshooter Melinda West, 29, has encountered more than her share of supernatural creatures after a monster infection killed her mother. Now, Melinda and her charismatic partner, Lance, offer their exterminating services to desperate towns, fighting everything from giant flying scorpions to psychic bugs. But when they accidentally release a demon, they must track a dangerous outlaw across treacherous lands and battle a menagerie of creatures—all before an army of soul-devouring monsters descend on Earth.

Supernatural meets Bonnie and Clyde in a re-imagined Old West full of diverse characters, desolate landscapes, and fast-paced adventure.

For reviwers find it on BookSirens!
246 pages | 978-1957537375 | February 2, 2023