Daughter of Sarpedon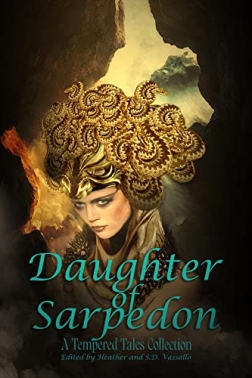 A Tempered Tales Collection
By Brigids Gate Press
Medusa.
Cursed by the gods.
Slain by Perseus.
A monster.

So the poets sang.

The poets got it wrong.

Daughter of Sarpedon: A Tempered Tales Collection is an anthology of short stories, poems, and drabbles, ranging from retellings to completely new stories, from ancient to modern day.

Featuring the talents of Eva Papasoulioti, Laura G. Kaschak, Linda D. Addison, SJ Townend, Christina Sng, Ann Wuehler, Amanda Steel, Ellie Detzler, Elizabeth Davis, Katherine Silva, Megan Baffoe, Rachel Horak Dempsey, Romy Tara Wenzel, Stephanie M. Wytovich, Die Booth, Rachel Rixen, Federica Santini, Thomas Joyce, L. Minton, Catherine McCarthy, Ai Jiang, Katie Young, Lyndsey Croal, Elyse Russell, Deborah Markus, April Yates, Theresa Derwin, Jason P. Burnham, Claire McNerney, Marisca Pichette, Gordon Linzner, Patricia Gomes, Stephen Frame, Sharmon Gazaway, Kayla Whittle, Alexis DuBon, Sam Muller, Avra Margariti, Christina Bagni, Kristin Cleaveland, Eric J. Guignard, Marshall J. Moore, Owl Goingback, Renée Meloche, Cindy O'Quinn, Eugene Johnson, Alyson Faye, Jeanne Bush, and Agatha Andrews.
October 2, 2022