Dangerous waters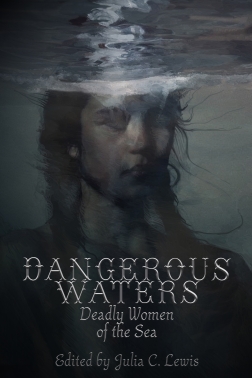 Deadly Women of the Sea
By Brigids Gate Press
Published by Brigids Gate Press
Malevolent mermaids.

Sinister sirens.

Scary selkies.

And other dangerous women of the deep blue sea.

Dangerous waters takes us deep beneath the ocean waves and shows us once more why we need
to be cautious about venturing out into the water.

Featuring stories, drabbles and poems by Sandra Ljubjanovic, John Higgins, Patrick Rutigliano, Candace Robinson, Emmanuel Williams, Desiree M. Niccoli, L. Marie Wood, Samantha Lokai, Christina Henneman, Gully Novaro, Christine Lukas, Alice Austin, Dawn Vogel, Victoria Nations, Mark Towse, Kristin Cleaveland, Ben Monroe, Kurt Newton, E.M. Linden, Eva Papasoulioti, Ann Wuehler, Rachel Dib, Amalie Fredericksen, Daniel Pyle, Megan Hart, Ef Deal, Katherine Traylor, Juliegh Howard-Hobson, Simon Kewin, Elana Gomel, Lauren Reynolds, Grace R. Reynolds, René Galván, Marshall J. Moore, Ngo Binh Anh Khoa, Roxie Vorhees, April Yates, Kaitlin Tremblay, T.K. Howell, Kayla Whittle, Emily Teng, Briana McGuckin, Tom Farr, Cassandra Taylor, Steve Altman, Paul M. Feeney, Lucy Collins, Marianne Halbert, Rosie Arcane, Antonia Rachel Ward, Steven Lord, and Jessica Peter.

For reviwers find it on BookSirens!
320 pages | 978-1957537122 | January 9, 2023