A Quaint and Curious Volume of Gothic Tales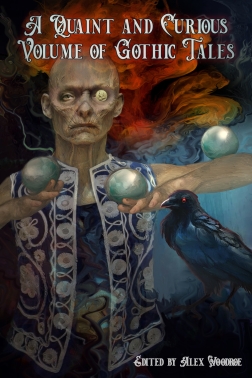 Published by Brigids Gate Press
A Quaint and Curious Volume of Gothic Tales; 23 stories of madness, pain, ghosts, curses, unspoken secrets, greed, murder, and one of the creepiest collections of dolls ever. Ranging from traditional gothic themes to more modern tropes, this anthology is sure to please the reader…and send a cold shiver or two down their spine.
So, come on in; enter the parlor, find a place by the fire, and experience the beautiful, dark, and occasionally heartbreaking stories told by the authors.The editor, Alex Woodroe, has passionately and carefully curated a powerful volume of stories, written by an amazing and diverse group of contemporary women writers. Featuring stories by Lindsay King-Miller, Jen Mierisch, Miriam H. Harrison, Kasimma, Mary Rajotte, Catherine McCarthy, Patricia Miller, Jessica Lévai, Emily J. Cohen, Kathleen Palm, Evelyn Maguire, Cindy O'Quinn, April Yates, Erica Ruppert, Alexis DuBon, Mo Moshaty, Helen Glynn Jones, Anna Fitzgerald Healy, Victoria Nations, Deana Lisenby, Jolie Toomajan, Briana McGuckin, and S.H. Cooper.

Correction to the first edition: Through no fault of the editor, the first edition miscredited "Down With the Holly, Ivy, All" to someone other than the actual author, Jessica Levai. This was corrected in the second edition. Please accept our humblest apologies.
paperback | 287 pages | $14.99 USD | 6 x 0.72 x 9 inches | 9781957537016 | February 11, 2022